Metal Surface Preparation
Approximately 70% of paint failures are caused by inadequate surface preparation. No matter how good the coating is, it will not perform at its best on a poorly prepared surface unless it is designed for it. The preparation of metallic surfaces involves the elimination of defects and contaminants from the surface along with the generation of a roughness profile to promote the adherence of the coating to the substrate. The surface profile and cleanliness have a direct link to the adhesion and performance of the coating.
What is surface preparation?
Surface preparation is any operation or set of operations performed on a surface that removes physical defects and surface contaminants for subsequent application of a coating. Examples of surface preparation include removal of surface defects, pre-cleaning, removal of chemical contaminants, and abrasive blasting or other methods. Surface preparation also includes meeting a specified degree of cleanliness, as well as providing a surface profile compatible with the application of a subsequent coating.
Why is proper surface preparation important?
The life of a coating depends on both the degree and quality of surface preparation and the selected coating system. A large number of coating failures can be attributed to inadequate surface preparation or lack of coating adhesion. The coating system selected for a project usually determines the type and extent of surface preparation. Coating manufacturers' data sheets or datasheets usually contain the minimum surface preparation requirements for successful coating performance. Therefore, when selecting the surface preparation method, the requirements of the subsequent coating system should be considered.
Surface Preparation Methods
Different levels of surface preparation can be achieved by different cleaning methods. SSPC, ISO and NACE International have established different standards to define different levels of surface cleanliness.
1. Abrasive blasting
White metal (SSPC SP - 5/NACE No. 1)


Near White (SSPC SP - 10/NACE No. 2)

Commercial grade (SSPC SP - 6/NACE No. 3)

Industrial (SPC SP - 14/NACE No. 8)

Brush off(SSPC SP - 7/NACE No. 4)



Brush-off Blast Cleaning Non-Ferrous Metals(SSPC - SP16)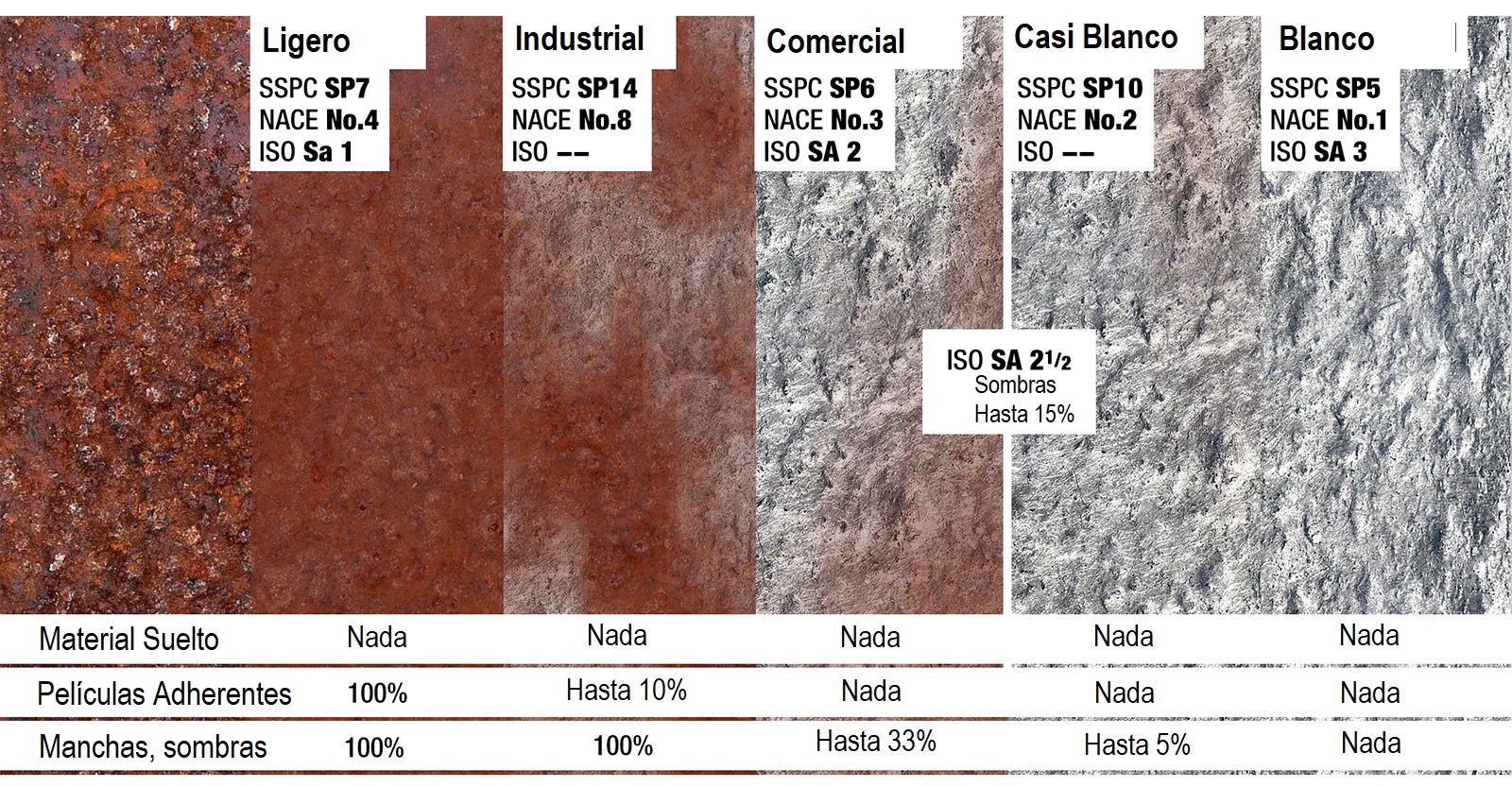 2. Cleaning with manual and mechanical tools
Hand Tool Cleaning (SSPC - SP 2)

Power Tool Cleaning (SSPC - SP 3)

Commercial Power Tool Cleaning(SSPC - SP 15)

Bare Metal Power Tool Cleaning 

(SSPC SP - 11)
3. Pressure water jetting cleaning
Waterjetting to Bare Substrate (SSPC - SP WJ 1)

Very Thorough Waterjetting (SSPC - SP WJ 2)

Thorough Waterjetting (SSPC - SP WJ 3)

Light Waterjetting (SSPC - SP WJ 4)
How to select the surface preparation method?
To select the most suitable preparation method, different aspects of the project must be evaluated, such as
Specification of the coating


Initial metal condition

Accessibility

Costs

Security

Tools and equipment

Media Restrictions
Often combined surface preparation techniques are used. For example, cleaning with solvents (SSPC - SP 1) is a pre-cleaning method before abrasive cleaning. Manufacturing defects can be fixed with power tools before abrasive or water jet cleaning. Each of these techniques should be controlled by the available specifications and standards to help define the process.
Aplika Control Corrosión supplies the equipment and consumables needed for cleaning by abrasive blasting, along with specialized technical advice to achieve the degree of cleanliness required and the proper development of technical specifications.

Tags
Share post